Let's Build A Mandolin (Page 12a)
1 2 3 4 5 6 7 8 8a 9 10 11 11a 11b 12 12a 13 14 15 16 17 18 19 20
Last Modified - January 2012 (©Alan Dunwell 2012)
In Page 12 we were routing the flat faced headstock for binding. If you are doing a more traditional headstock that has been cut at an angle then you need to also cut the binding slot at that same angle. First though, you need to use the same wedge you used when cutting the headstock and sand the neck shaft true to the fretboard at the nut.
The steps with the marking are the same, but now I use a special angled base for the die grinder. The die grinder is just slipped into a snug fitting hole and held with a wing bolt. The bottom block is cut to the same angle as the headstock so the slot gets cut relative to the plane of the fretboard surface. If I were building this again I'd make the bottom piece out of some plexiglas so that it would be easier to see while routing. Cleanup and prep are the same, but bending the binding is a bit trickier because some of the pieces have to be twisted at the same time they are curved in order to accommodate the compound curvature. Take your time to get the binding right so it just lays in the slot without too much forcing or else you will end up with gaps and perhaps uneven looking binding.
Gluing in the binding goes the same, but because of the compound curves you often need more wedges and more tape in places to get it in tight. Cleanup, fill, and scraping is the same as shown on Page 11.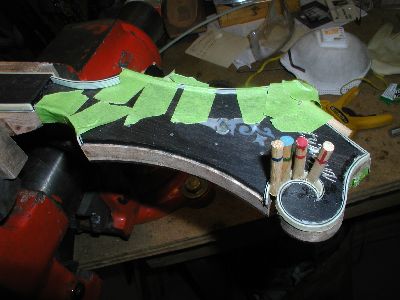 1 2 3 4 5 6 7 8 8a 9 10 11 11a 11b 12 12a 13 14 15 16 17 18 19 20